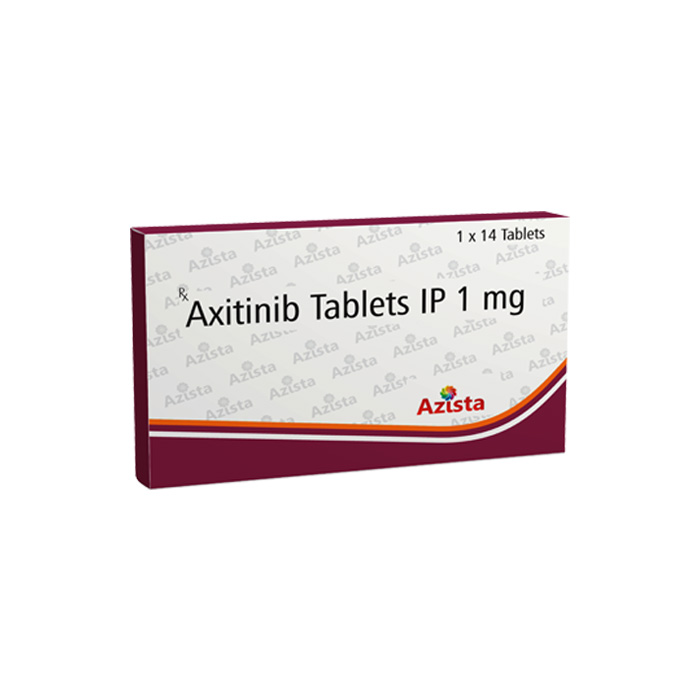 Axitinib 1mg Tablets
Axitinib 1mg is a prescribed drug and a targeted therapy for Renal Cancer Carcinoma. It is a small molecule protein kinase inhibitors class; it is a red and film-coated tablet debossed with Pfizer on one side and XNB on the other side.
Axitinib is an anti-cancer medication and blocks the abnormal protein that strengthens the multiplication of cancer cells
It treats kidney cancers that is already spread and cannot be removed by surgeries.
Axitinib inhibits a mutated gene which is common in chronic myeloid Leukemia and adult lymphoblastic Leukemia.
The dosage is based on the severity of the complications of the patients, and it might vary based on the patient's body reacts to the medicine.
Axitinib effectively treats silent cancers like RCC whose symptoms do not show up in the initial stages but come out in the advanced and incurable stage.
It is identified as an extremely potent and selective VEGFR inhibitor.
To learn more, contact us. As the leading manufacturer, the world's largest exporter, and the bulk supplier of the product, we are renowned for our fine quality and timely delivery.
Take the dosage of the tablet as prescribed by your doctor.
Do not eat grapes or drink grape juices unless your doctor allows it.
Call your doctor to know the important risks and after-effects that might bother your health.
If you skip multiple doses call your doctor for a new schedule and follow accordingly.
Do not skip/overdose/overlap the doses/discontinue the medicine unless your doctor asks you to do so.