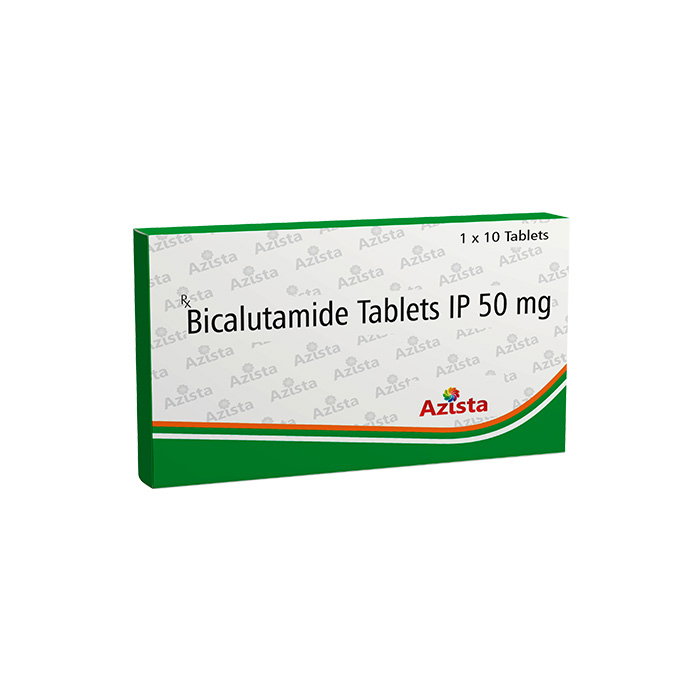 Bicalutamide 50mg Tablets
Bicalutamide 50mg belongs to non-steroidal androgen receptor inhibitors, hormones/antineoplastic class, and is given in combination with another medicine called LHRH (Luteinizing hormone-releasing hormone).
It is a film-coated tablet, white to off-white, round biconvex, debossed by 'B 50' on one side and plain on the other side.
Send us an inquiry or request quotations via the Lead Form.
We are the reliable manufacturers of this product available around the World. We are one of the leading global exporters and bulk suppliers of the finest quality products.
Bicalutamide tablets are used to treat prostate cancer.
It is used in the treatment of stage D2 metastatic carcinoma of the prostate.
The hormone called testosterone supports the cancer cells to multiply well and develop prostate cancer. Bicalutamide tablets block the hormone's effect on the cancer cells and slow down the growth of cancer.
The tablet also reduces the severity of "After effects" and flickers caused due to treatment or surgery related to cancer.
If you are allergic to any of the ingredients of the medicine, tell your doctor or the pharmacist before taking the tablet.
Complete the course and do not discontinue the medicine without your doctor's advice, it will affect the treatment and increase the complications.
In case pregnant ladies have taken the medicine, see your doctor immediately, or it may cause abnormalities in the development of the fetus.