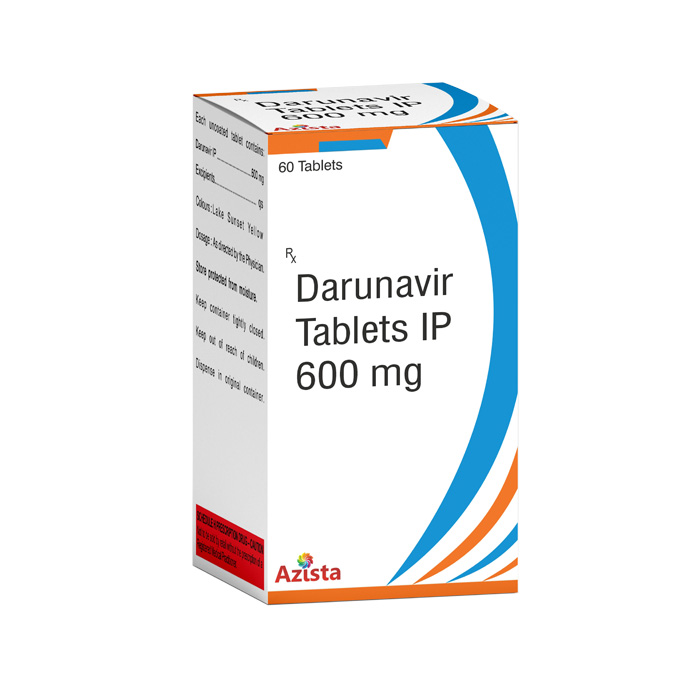 Darunavir 600mg Tablets
Darunavir 600mg is an N, N- disubstituted benzenesulfonamide that contains an unsubstituted amino group at the 4-position and belongs to the protease inhibitors class of medications.
It is approximately 95% bound to plasma proteins and primarily to plasma alpha 1-acid glycoprotein (AAG).
The medicine is metabolized by CYP enzymes and most of the radioactivity in plasma is due to Darunavir.
It is called furfural, a sulphonamide, and a carbamate ester.
It is used in the treatment of HIV infection by reducing the amount of HIV in the blood.
The medicine boosts up your body's immune levels that provide us resistance to fight the viruses and bacteria in the body.
It works by inhibiting proteolytic cleavage of viral Gag and Gag-pol polyproteins in HIV-infected cells, which produces immature, non-infectious viral proteins that weaken the formation of mature virions and prevent HIV replication.
To learn more, write to us through a lead form. We are one of the Manufacturing giants of the product. Our product is of the finest quality and delivered on time, and we are the leading global exporters and bulk suppliers.
Restrict the intake of alcohol, as the medicine caused dizziness. Try not to drive or use any heavy machinery as soon as you take the tablet.
Observe your heart health and seek medical help immediately if you experience any abnormalities.
Let your doctor know about your medical history, and the tablets already you are taking if you are allergic to the medicine or any other medicines.