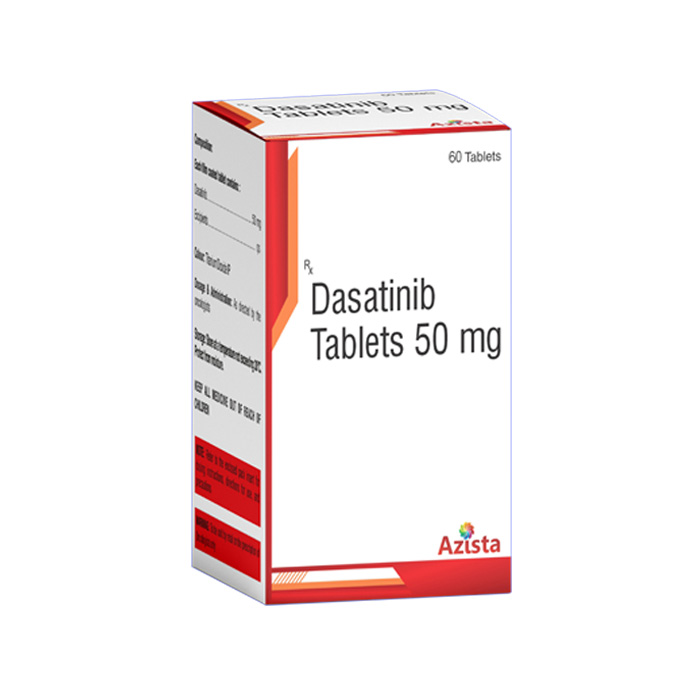 Dasatinib 50mg Tablets
Dasatinib 50 mg is a chemotherapy drug. It is an ATP-competitive protein tyrosine kinase inhibitor.
It belongs to the kinase inhibitors class of medications and is used as monohydrates.
It mainly targets BCR/ABI (the Philadelphia chromosome), SRC, c-Kit, ephrin receptors, and several other tyrosine kinases. Dasatinib Tablets have half-life plasma that is active only for 3 to 4 hours, but the strong binding to BCR-ABL1 helps it to stay active for a long time, and this is the uniqueness of Dasatinib when compared to other CML treatments.
The dosage of the medicine depends upon the severity of the complications of the disease, and it may vary gradually depending on the response of the body to the medicine.
Dasatinib 20mg is used to treat cases of Chronic Myelogenous Leukemia (CML) Acute Lymphoblastic Leukemia (ALL), and Philadelphia Chromosome-positive (Ph+).
It stops or slows down the growth of cancer cells in the body.
It treats the adults in the chronic phase of Philadelphia Chromosome-positive (Ph+) who have no benefits from or couldn't tolerate other treatments and children who have chronic Ph+ CML.
It blocks the action of the abnormal protein that strengthens the cancer cells to multiply.
Tell your doctor if you are allergic to any of the ingredients of the medicine.
Let your doctor know if you have a medical history of heart, kidneys, liver, recent infections, or any bleeding problems and medications that you are already on.
This medicine is prone to infections and worsens the existing infections, therefore seek medical help if you observe any symptoms of infections in your body.
This medicine is restricted to pregnant women, planning for pregnancy, or breastfeeding mothers.
To know more information, inquiries, or quotations of the product contact us through the lead form. We are one of the largest manufacturers, global exporters, and bulk suppliers, and we provide fast high-quality delivery.