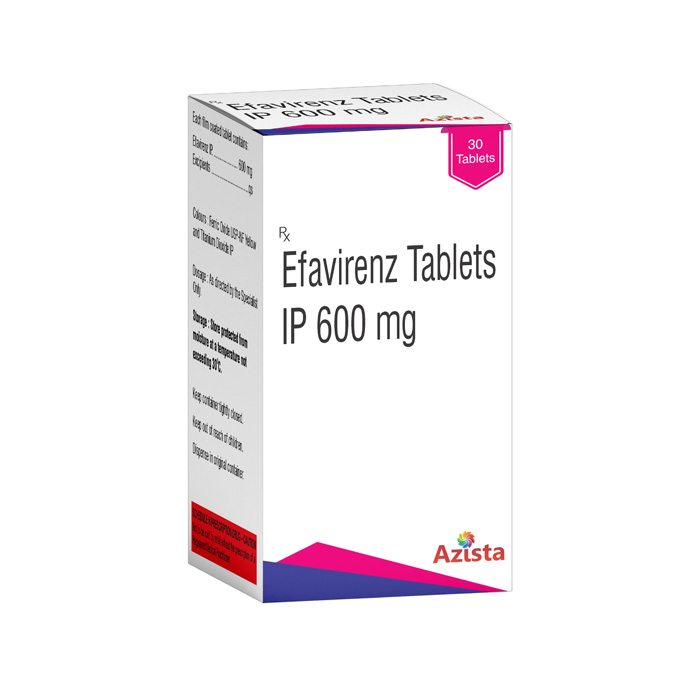 Efavirenz 600mg Tablets
Efavirenz 600mg is an antiviral medicine and belongs to the non-nucleoside reverse transcriptase inhibitors medications class (NNRTIs) class. It is known as dideoxyinosine, DDL, and is a synthetic purine derivative.
This medicine should be used with other antiviral medicines, and it should not be taken alone. It is a white to slightly pink crystalline powder and practically insoluble in water.
Tell your doctor if you are allergic to Efavirenz, or have any specific energies/
It strengthens the immune system and makes your body strong enough to fight infections and viruses.
It is used to treat/prevent HIV/AIDS.
It probably treats/prevents after a needle stick injury or other potential exposure.
Efavirenz does not cure HIV, but it lowers the chances of spreading the disease, developing new infections, and multiplication of viruses in the body.
Swallow the medicine, and do not eat food for 2 hours after taking the medicine.
The dose of the medicine depends on the complications and the patient's body's response to the treatment.
Restrict alcohol and self-medication while taking the Efavirenz tablet.
Talk to your doctor about all the risks, side-effects of the medicine before taking it.
Promptly use the tablet at the prescribed time and recommended dose.
Fill in the Lead Form for orders or quotations. We are the bulk suppliers of the product and export worldwide. As manufacturers, global exporters, and bulk suppliers of this product, we guarantee good quality and on-time delivery.