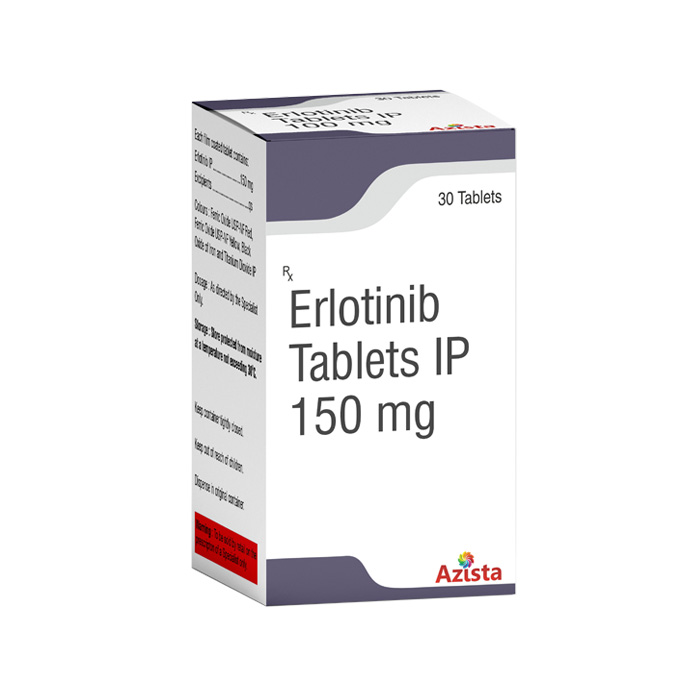 Erlotinib 150mg Tablets
Erlotinib tablet is a non-chemotherapy drug that belongs to the group of medicines called Cytostatic agents. It is Epidermal Growth Factor Receptor-Kinase Inhibitor (EGFR-TKI). The medicine binds tyrosine kinase (the intracellular) portion of a protein called epidermal growth factor receptor and inhibits the spread or growth of cancer cells in the body.
To find out more about the product, contact us through our lead form. We are one of the Manufacturing giants of the product with the finest quality and delivered on time, and we are the leading global exporters and bulk suppliers.
It treats advanced, unresectable metastatic pancreatic cancer and non-small cell lung cancer (NSCLC) in adult patients.
It is used to treat pancreatic cancer.
It is used to treat advanced music after the failure of one prior chemotherapy regimen.
Patients with both metastatic and advanced non-small lung cancer can take Erlotinib tablets in combination with gemcitabine as the initial choice of treatment.
Erlotinib is prescribed to patients with tumors when all the other options of treatments fail or are found not suitable.
Try and observe the changes in your body after taking the medicine and immediately consult your doctor for treatment before they get worse and bother your health.
Tell your doctor if you are allergic to the medicine or have any specific allergies and have a medical history of heart, lung, and kidney diseases and already taking any medications.
Avoid eating grapes or grape juices while taking this tablet.