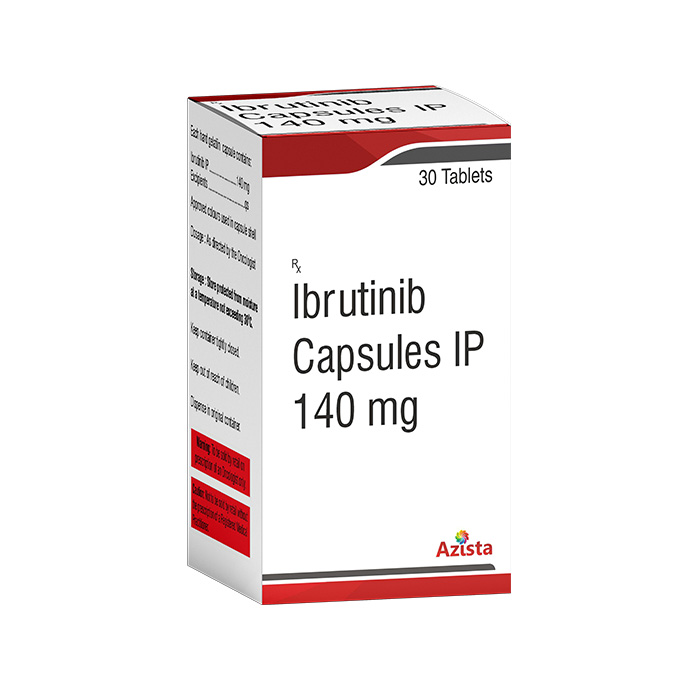 Ibrutinib 140mg Capsules
Ibrutinib 140 mg is Bruton's tyrosine kinase (BTK) inhibitor. It is a white to off-white solid and freely soluble in dimethyl sulfoxide, and methanol and insoluble in water.
It inhibits the BTK enzymatic activity. Non-clinical studies record that the Ibrutinib tablet inhibits malignant B-cell survival and proliferation in vivo, substrate adhesion, and cell migration in vitro.
Contact us through the lead form for more information, inquiries, or quotations about the product. We are one of the world's largest manufacturers, global exporters, and bulk suppliers who offer fast and high-quality delivery services.
Ibrutinib 140 mg treats types of non-Hodgkin lymphoma which include Mantle Cell Lymphoma (MCL), who have already received at least one prior treatment.
Walden storm's macroglobulinemia, and chronic lymphocytic Leukemia (CLL)/small lymphocytic Leukemia (SLL) with 17p deletion.
The tablet hinders the activity of an irregular protein that promotes the growth of cancer cells and restricts the growth of malignancy cells.
Tell your doctor if you are allergic or hypersensitive to any of the ingredients or properties of the medicine, and have a medical or therapeutic history of hypertension, heart, liver, kidney, thyroid issues, and diabetes.
Do not use the medicine if patients have hepatic impairment.
See your doctor if you observe any abnormalities after taking the medicine.