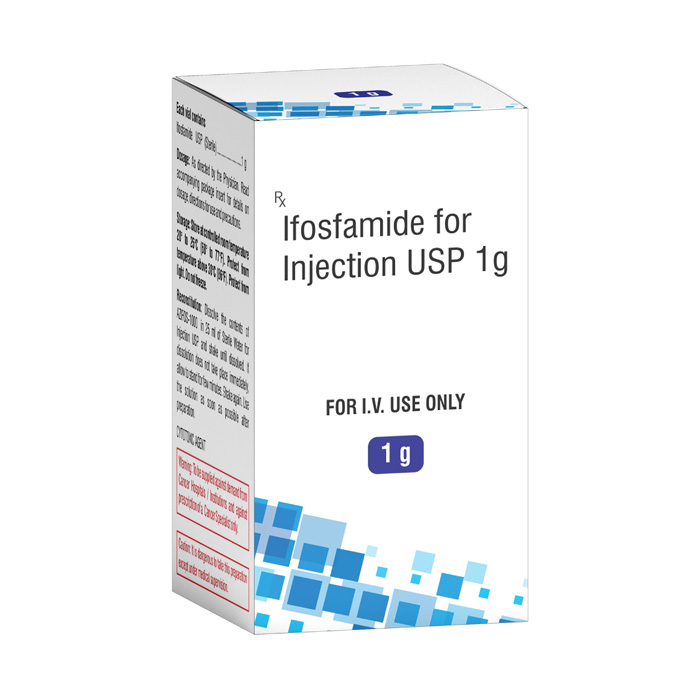 Ifosfamide 1g Injection
Ifosfamide Injection is a white crystalline powder soluble in water. It is a chemotherapeutic infusion chemically related to the nitrogen mustards and a synthetic analog of cyclophosphamide. It is an alkylating and immunosuppressive agent.
Ifosfamide injection require metabolic activation by microsomal liver enzymes to produce biologically active metabolites.
The medicine is extensively metabolized and Metabolic pathways are saturated at high doses, it is cycle-phase nonspecific and has plasma protein binding.
Ifosfamide is a cytotoxic drug used for the treat of malignant disease, used with other cytotoxic drugs, radiotherapy, and surgery.
The medicine is used to treat third line chemotherapy of germ cell testicular cancer.
It is used in chemotherapy for the treatment of cancers that includes testicular, ovarian, cervical, bladder, small cell lung cancers, osteocarcinoma, and non-Hodgkin's lymphoma.
It is given as a drip, slowly infused into a vein over several hours.
The medicine consumed as per your doctor's prescription and schedule
The injection keeps your kidneys working well.
Intake excess of water to pass more urine and prevent bladder and kidney problems and keep your kidneys healthy.
The medicine is restricted to pregnant ladies, planning for pregnancy, and breast feeding mothers.
Do not stop the course of the medicine even if you feel better without your doctor's consent.
Do not overdose/overlap any two doses. Consult your doctor in case you overdose.
Tell your doctor if you have medical history of liver, heart, or kidney problems and taking any other medicines to treat infections.