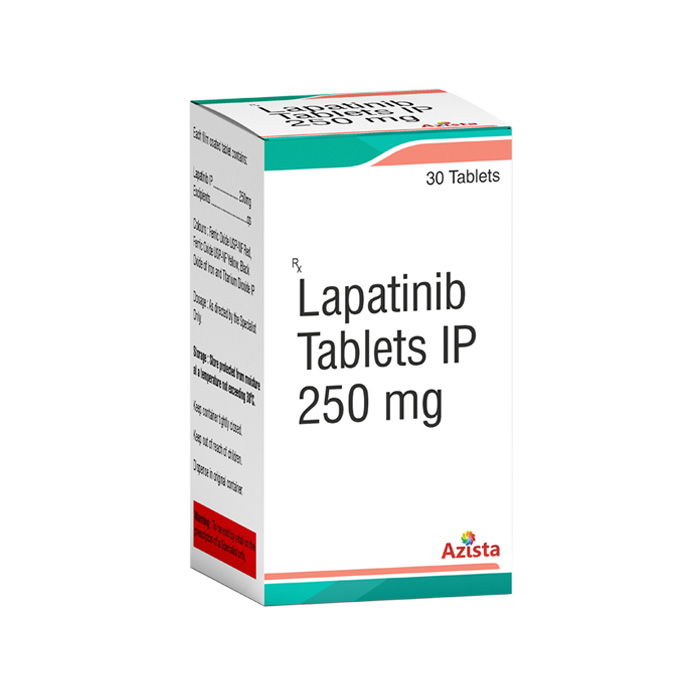 Lapatinib 250mg 30 Tablets
Lapatinib is a small molecule and belongs to a 4-anilinoquinazoline class of Kinase inhibitors. It is the monohydrate of the ditosylate salt.
It is a yellow solid, and solubility in water is 0.007 mg/mL and in 0.1N HCl is 0.001 mg/mL at 25°C.
Feel free to call us with questions and quotations. With our global brand, fast delivery, and high-quality products, we are one of the world's largest manufacturers, global exporters, and bulk suppliers
It is used to treat advanced breast cancer (HER2-positive) that has spread to other parts of the body (metastatic). It slows down/ stops the growth of cancer cells.
The tablet inhibits the flow of protein called human epidermal growth factor receptor 2.
Treats the patients with other breast cancers.
In women, during the postmenopausal stage, Lapatinib is prescribed in combination with a hormonal medicine called Letrozole.
Inform your doctor if you are allergic to the ingredients of the tablet or if you have a medical history of heart, kidney, liver, and electrolyte imbalance (fluctuations in the levels of potassium and magnesium in the blood) and experience stomach pain, itching, dark urine, clay-colored stools, or jaundice.
The medicine is restricted to pregnant ladies, planning for pregnancy, and breastfeeding mothers.