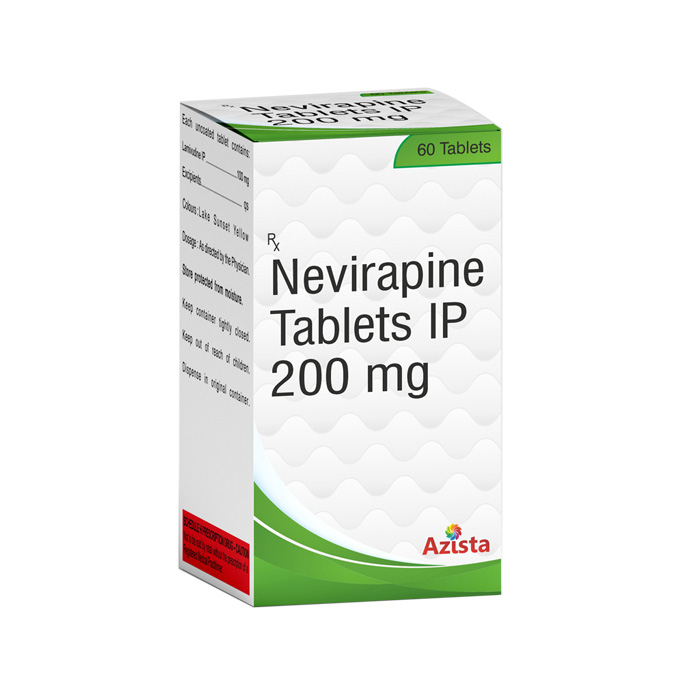 Nevirapine 200mg Tablets
Nevirapine 200mg is an antiretroviral medicine and is a non-nucleoside reverse transcriptase inhibitor (NNRTI). It belongs to a chemical class of compounds called dipyridodiazepinone.
The tablets are white oval-shaped biconvex tablets with a central break line on one side and 'N' debossed on another side.
Every dose of the medicine is important, do not skip, overdose, or overlap the dose of the tablet.
Please contact us if you have any questions or need quotations. Being one of the largest manufacturers, global exporters, and bulk suppliers, we provide the finest quality product on time.
Nevirapine treats Human Immunodeficiency Virus Type-1.
It is prescribed with other antiretroviral medicines to treat HIV 1 – the virus that causes AIDS (Acquired Immune Deficiency Syndrome).
The medicine decreases the HIV percentage in the blood and reduces the risk of AIDS in the body. It strengthens the immune system of the body and helps the body fight infections and viruses.
Nevirapine is given to people who are diagnosed with HIV. It is not given to people with HIV negative.
The medicine prevents the multiplication of viruses or cells and the production of new cells in the body.
Do not neglect, to discuss with your doctor the risks, and after-effects of the medicine before having it.
For early treatment take the medicine at the prescribed time and as per the prescribed dosage. If you skip/discontinue the medicine without the instructions from your doctors the treatment will delay and might result in an increase of the virus/infections.