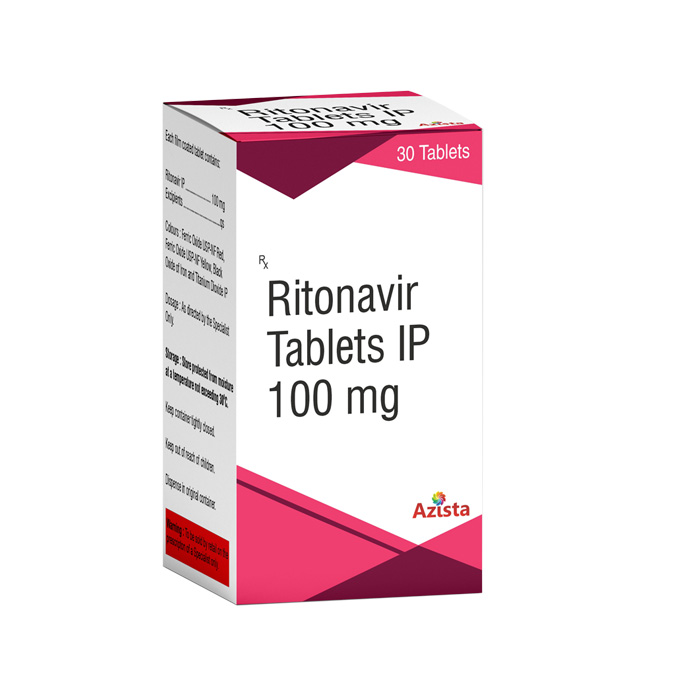 Ritonavir 100mg Tablets
Ritonavir 100mg is an antiretroviral medicine and a protease inhibitor. It is a film-coated white off-white capsule-shaped debossed with 'H' on one side and 'R9' on the other side.
It is given in combination with other antiretroviral tablets for administration.
The medicine has several cytochrome isoforms, a high affinity for P- glycoprotein, and probably induces glucuronidation of zidovudine. It is recommended to take it with food for effective treatment.
Ritonavir liquid contains alcohol and propylene glycol. It is suggested to avoid taking alcohol while using the medicine and restricted for the pregnant ladies, planning for pregnancy, and breastfeeding mothers.
Feel free to contact us with any questions you may have. We are one of the largest manufacturers, global exporters, and bulk suppliers and provide high-quality products on time.
Ritonavir is used to treat HIV infection and is prescribed with other medications.
It strengthens the immune system by reducing the amount of HIV in the blood and lowers the chances of infections and viruses in the body.
It does not cure but treats the HIV infection lowering the chances of AIDS and increasing the quality of life.
Ritonavir is also used as a pharmacokinetic enhancer to boost the metabolism of other HIV medications.
Do not avoid, skip, overdose, overlap the medicine, or delay the treatment. Discontinuation of the medicine without your doctor's suggestion might reverse the disease and increase the complications.
Inform your doctor if you have any medical history, especially of heart, liver, or kidneys, and the list of medicines that you are already taking to avoid contradictions and avoid further complications.