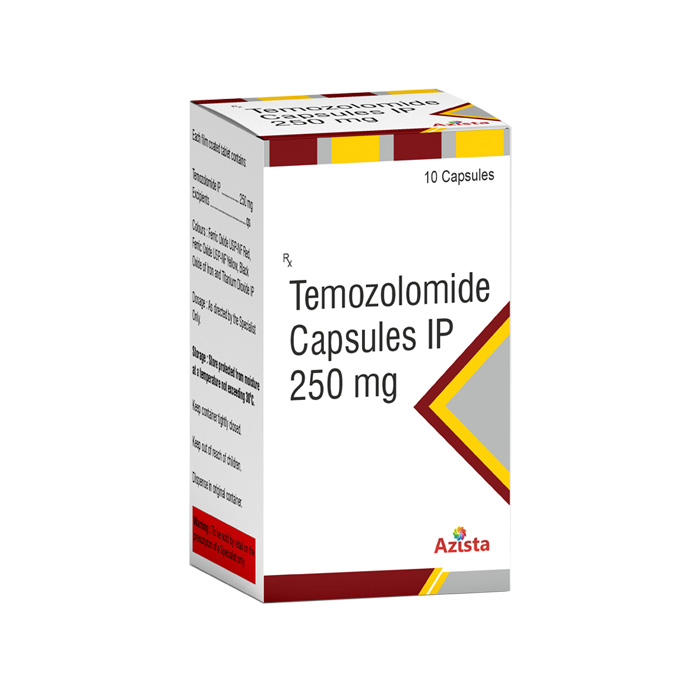 Temozolomide 250mg Capsules
Temozolomide is a prescription medicine by professionals who have experience in oncological treatment. It is alkylating drug and a derivative of Imidazotetrazine. The molecular weight is 194.15 and it is a green capsule with gelatin, titanium dioxide, iron oxide yellow, sodium lauryl sulphate, and FD&C Blue #2.
The tablet is not directly active but nonenzymatic conversion takes place at physiologic pH to the reactive compound present in the body.
It is either taken orally or intravenously daily once for 42 consecutive days.
Temozolomide is used to treat the elder people with "Glioblastoma multiforme"
It treats certain types of brain cancers. It slows/stops the growth of cancer cells.
It is used in the treatment of adult patients with refractory anaplastic astrocytoma who have prior experience progress in disease on a drug regimen with nitrosourea and procarbazine.
Try to observe the changes in your body as there are cases of reactivation of infections and the rise of new infections.
Intake the Temozolomide on an empty stomach or during bedtime. Doctors say 1 hour before a meal or 3 hours after the meal for best effects and it helps in reducing nausea and vomiting.
Do not crush, break, or chew the tablet, swallow it on the whole. If the capsule breaks and opens do not let the skin get in contact with the powder, mouth, or nose.
Contact your doctor and get knowledge about the pros and cons of the tablet to avoid further complications.
Do not overdose, overlap the doses, or skip, or discontinue the doses without the supervision of your doctor.
Use the lead form to contact us for any queries, or to request quotes. We are one of the largest manufacturers, global exporters, and bulk suppliers in the world, offering fast and reliable delivery services.