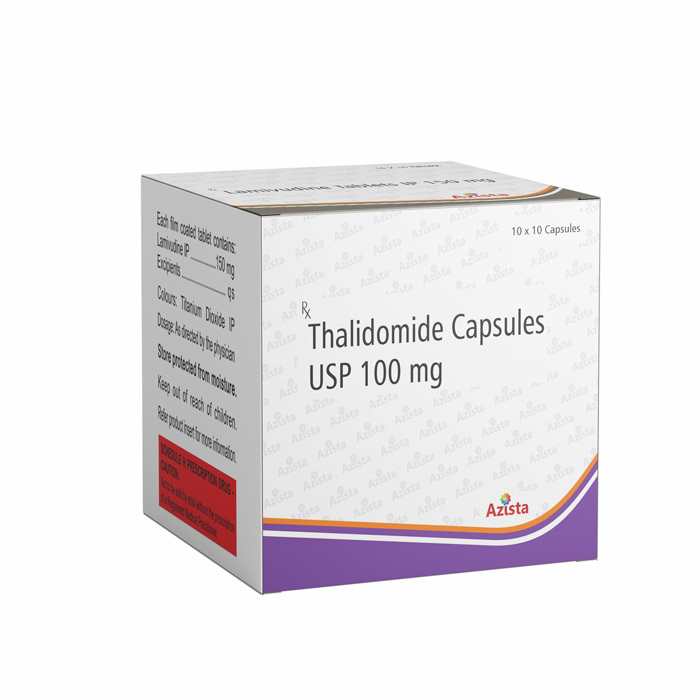 Thalidomide 100mg Capsules
Thalidomide 100mg is a biological therapy and cancer-targeted drug which is prescribed in the combination with other cancer drugs or alone.
It belongs to immunomodulatory agents and is a synthetic derivative of glutamic acid (alpha-phthalimido-glutarimide). It has anti-inflammatory and pro-anti-angiogenic properties like Vascular Endothelial Growth Factor (VEGF) and basic fibroblast growth factor (bFGF) that inhibit pro-antiangiogenic.
The tablet inhibits the production of tumor necrosis factor-alpha (TNF alpha) in stimulated peripheral monocytes and interleukin and interferons activities.
Thalidomide is used to prevent or treat various skin conditions that are related to Hansen's disease.
As per recent research, doctors say Thalidomide controls inflammation and regulates the germ-fighting immune system of the body.
The tablet slows the body's process that created new blood cells as the same process fuels up the tumor cells use the same to increase in number and spread rapidly.
It treats leprosy caused due to skin lesions, and multiple myeloma.
The tablet also inhibits polymorphonuclear chemotaxis and monocyte phagocytosis.
You might experience dizziness, light-headedness, or even walking and moving your body as the medicine temporarily lowers the number of white blood cells in your blood which increases the risks of infections. Therefore, it is advised not to drive or carry any machinery work right after you take the medicine.
Ask your doctor about the pros and cons of the medicine before your intake and tell your doctor if you have any medical history and tablets that you are already taking.